The Uniform Shop is CLOSED
until further notice
Contact Details:
Phone: 9582 5788
Email: uniform.shop@stbedes.catholic.edu.au
Manager: Sally Waltzer
Regular Trading Hours:
MONDAYS:         1:15pm to 5:30pm
THURSDAYS:      1:15pm to 5:30pm
SATURDAYS:      9:00am to 12:00 Noon (on the first Saturday of the Month only)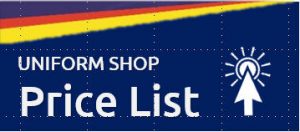 School Holiday Trading Hours – for End of Term 1:
Winter uniform is worn from the beginning of Term 2.
When to Wear Summer / Winter Uniform
Term 1 and 4: Students have the option to wear their summer uniform, but can wear their winter uniform.
Term 2 and 3: Winter Uniform
Summer and Winter uniforms are NOT interchangeable.
The Uniform Shop is located on College grounds on the corner of Palermo Street and Naples Road.
View the Student Uniform Policy
Second-hand Uniform Trading
 Second-hand uniform is available for purchase from the Uniform Shop. The prices vary according to the quality of the item but tend to be around half the price of new items.  
To Sell Your Uniform
When you bring in your son's uniform to sell you will need to complete the Second-hand Uniform Form. You can download the form below. We also have forms available in the Uniform Shop.
The price you can obtain for your uniform is usually from 50% of the original cost but is dependent upon the quality of the clothing. The Uniform Shop retains 15% of the sale to cover the costs involved with the running of the Second-hand Uniform area.
When your items are sold we will credit your Bank Account.
When you wish to sell your uniform, you are required to:
Complete the Second-hand Uniform Trading Form
Bring current style uniform in good condition
Launder all items
The blazer needs to be dry cleaned
Second-hand Uniform Trading Form
To download the list of April 2020 trading hours, please click on