Unleash your potential to shine brighter
BEAM Program for Gifted and Talented Learners
At St Bede's College, education goes far beyond textbooks and the classroom. The purpose of BEAM is to further enrich and expand the holistic growth of each student across many types of facets, disciplines, and passions without borders.
Our innovative BEAM (Beda Enrichment and Academic Mentorship) program stands as a beacon of this commitment. It is designed to empower our students to unleash their unlimited potential to transform our world.
BEAM is designed to further nurture, develop and expand the abilities, strengths, grit and enjoyment of our gifted and talented students at St Bede's College.
By giving them more opportunities to experience joy and success in their learning in and out of the classroom, these students can better explore themselves as learners and strategically develop their unique gifts.
Through this holistic enrichment program and mentoring, we aim to foster optimal development that meets the unique needs of each type of gifted individual to become:
Enthusiastic lifelong learners who possess a deep appreciation for the joy of acquiring knowledge and developing talent.
Analytical and imaginative thinkers who possess the ability to effectively solve problems.
Self-fulfilled individuals on a journey to realising their true potential.
Advocates for social change and community engagement.
Resilient, characterised by grit, optimism and a growth mindset.
BEAM Opportunities
Participation in skills development competitions including Da Vinci Decathlon, Ethics Olympiad, F1 in Schools, BrainSTEM, Prime Minister Spelling Bee, MACS Gifted Education events, among others
Attending additional excursions, academic conferences, keynote speaker events
Extra-curricular offerings across diverse interests and fields including Creative, Social Justice, STEM and more
Identification / consideration for early VCE
Year 12 High Achievers Program with regular school-based mentoring, incursions and excursions
Professional mentoring support for academic assessments, exams, scholarships, pathways and careers, as well as socio/emotional support
Collaborative partnership between the College and home
Parent education seminars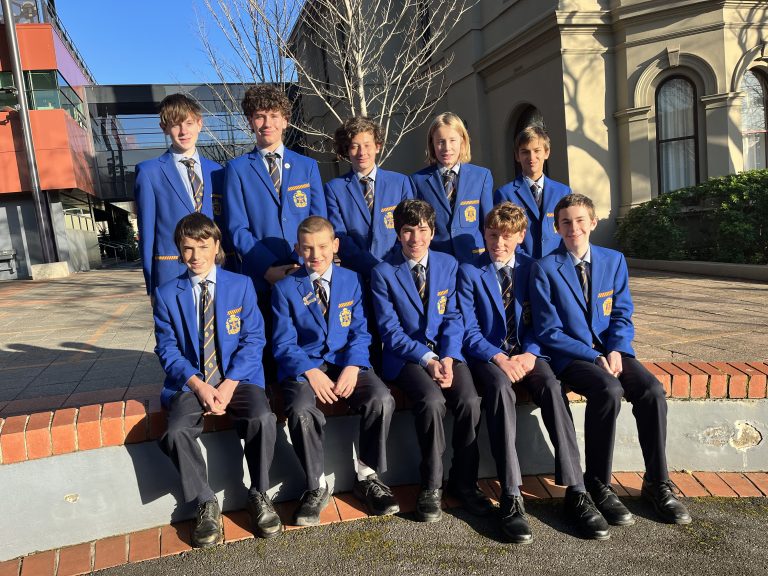 The Genesis of BEAM
In the spirit of empowering students, the College invited our students to develop the program's name. 'BEAM' was created by St Bede's College Vice-Captain (2024) and BEAM founding member, Tom Gregory (Year 11).
"When considering a name for the St Bede's Gifted and Talented Program, I thought about what is to be represented by the title. The program involves staff members giving their time to provide academic guidance and support to program students. Therefore, the image of a beam of light, illuminating the path ahead seemed appropriate. The staff involved provide a guiding light to assist students to shine and reach their potential."  Tom Gregory
BEAM Program Enquiries
Brenda McCullagh                                                                                9582 5950
BEAM Program Coordinator
Learning Area Leader – Gifted & Talented