The P&F (Parents and Friends Association) is …

a group of parents and friends
whose role is to provide support and assistance to the Principal and staff of the College
to enhance the quality of Educational facilities for all students at St Bede's College
Regular Meetings:
DATE
Regular meetings are usually held on the second Wednesday of each month.
(All welcome and some of the  2019 meeting & function dates are listed below and some are COMING SOON.)
TIME
7:30pm – 8:30pm
VENUE
Usually in the front Foyer of the Hall
Gatherings for Parents & Friends of the College:
Book Club
Walking Club
Movie Club
NOTE:  You are welcome to attend any or all of the events
---
---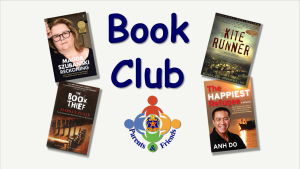 The third Book Club Gathering for 2019 will be held on:
TBC

TIME:         From 7pm to 8pm+
VENUE:     The Library
The book to be discussed will be "Five Parts Dead" by Tim Pegler
If you would like to collect this book to read, you are welcome to borrow a copy from Helen Keogh, the College Receptionist, or from anyone else in the College Office, between the hours of 8:00am and 4:30pm.
The Parents & Friends Association invites all parents, carers and friends of the College to feel welcome to attend any or all of the Book Club gatherings.
If you would like to find out more, please contact the Parents & Friends Assocation by emaiiling them on parentsandfriends@stbedes.catholic.edu.au
---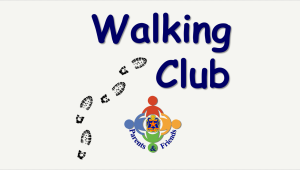 Meet at 9am at Gate 1 in Dixon Street, which is off Beach Road.
You are welcome to bring along prams, younger siblings and a dog on a lead.
You are advised to bring along money for coffee, as there is a 30 minute stop at the "Chain of Fools Cafe" in Beach Road Mentone.
Walking Dates for 2019 are:
| | | |
| --- | --- | --- |
| Term | Date | Day |
| 1 | April 4 | Thursday |
| 2 | May 21 | Tuesday |
| 3 | September 13 | Friday |
| 4 | Novembe 28 | Thursday |
---

The second  Movie Club Gathering for 2019 will be
*COMING SOON*
Welcome to the St Bede's College …
Parents and Friends Movie Club
General Movie Club Information:
Village Cinemas Southland confirms their session times each Thursday.  Owing to this, movie sessions times will be confirmed on *NEWS*, on the Thursday before the P&F Movie Club is intending to see the movie.  TIP:  To easily check the confirmed P&F Movie Club from your mobile phone, it is recommended that you download the St Bede's College App on the homepage and check News.
Please note that the Movie Club intends to hold a movie night no more than twice per term.  Unlike the P&F Book Club, the dates and times cannot be confirmed in advance because it depends when the P&F believe they have a worthwhile movie to see.
If you are keen to see the next movie, to join the Movie Club communication, you need to send an email with your name and mobile phone number to:  *COMING SOON*  Once this is done,you will receive confirmation  and you will be included in all P&F Movie Club communication.
The P&F aims to keep the movie screening time as close as possible to the regular set time for all College events, which is 7pm, but very late screening times that start well after 8pm will not be chosen.  Please note that the P&F will also try to vary future movie days and screening times to try and accommodate a variety of different needs.
Most movies will be at Village Southland.  However, Brighton Bay or Brighton Palace may also be designated.
LIST OF MOVIES SEEN:
"Hotel Mumbai" on FRI 22 MARCH 2019
 NEXT MOVIE:
Name of Movie *TBA*
DATE:
SESSION TIME:

MEETING TIME BEFORE:
(to purchase tickets together)
VENUE:
Usually Village Southland
COST::

COFFEE / DINNER AFTER:
Will be selected after the movie and will depend on what is still open and how many attend.
or
IF MOVIE IS SCREENING IN CINEMA EUROPA:
"Cinema Europa" movies are in "V Premium" Cinemas that incur a surcharge of $3 on top of the standard ticket price, but offer tables, comfortable seating, fully licensed drinks and catering.  You can purchase a meal or snack to have during the movie, as you can see from the menu below:

COST:
"VPremium" Cinema has a $3 surcharge on top of your voucher or standard ticket price.
"Vpremium is a fresh take on cinema offering a dine-in, chill-out vibe for just a few dollars more. It's the place to catch up with mates.  It's relaxed but high quality. Vpremium steps it up from a traditional movie experience and becomes a place to hang out rather than just see a movie. It's a little more impressive and makes any movie an occasion while still keeping it casual.
Fully licensed, the Vpremium experience features:
Cocktail, beer, wine & spirits menu
Intimate theatre
Extensive tasty hot food menu
Large and tall coupled seats with table
Aisle access for every set of seats
Vpremium app for in cinema ordering of food before the feature film"
To Join Village Cinemas:   https://villagecinemas.com.au/vrewards/signup?ReturnUrl=%252fvrewards&act=rhs
Village Ticket Prices:  To check Village Cinemas Movie Ticket Prices click on the Price List below, which was received by Village Cinemas on 19 March 2019:

Cinema Vouchers are also available from Village Cinemas, RACV (@ Southland which closes at 5pm), Telstra, Optus and The MAD Day Fundraiser.  NOTE:  If you use vouchers, you need to add $3 extra for the VPrem price
MEETING PLACE & TICKET PURCHASE:
For all P&F Mofie Nights, tickets will be purchased 15 minutes before the movie is due to start.  To obtain your ticket with the rest of the group, please ensure that you meet at the *Meeting Place COMING SOON*  by no later than 15 minutes before the movie start time.
IF YOU ARE RUNNING LATE:
If you are running late and can't arrive 15 minutes early, but believe you will make the movie  start time, you need to contact someone in the P&F parentsandfriends@stbedes.catholic.edu.au  to purchase your ticket for you, but the purchase cost must be reimbursed.  NOTE:  If you arrive after the movie start time, your ticket will be left with the Cinema Europa Lounge Staff (at your own risk)  in an envelope with your name on it.
---
---

The 2018 Annual General Meeting:
The 2019 AGM
---
---
2019 Meetings & Functions:
TERM 1:
DATE

INFORMATION

31 January
Tea and Tissues for 2019 New Parents to the College.
8:30am – 9:30am
VENUE:  Function Room
13 February
Regular Meeting
7:30pm
VENUE TBA.
TERM 2:
Other Dates for 2019 are

*COMING SOON*
TERM 3:
TERM 4:
---
Aim:
The aim of the Association is to create opportunities for families to familiarize themselves with the running of St. Bede's, in a relaxed and friendly atmosphere, while getting to know other parents and staff. They do this by holding social functions throughout the year.
Further aims of St Bede's College Parents and Friends Association include:
The fostering of friendships and development of a support network within the St Bede's community
To acts as a conduit between the parents and the School.
To co-ordinate social occasions where parents, friends and staff of the School can join together to foster friendships
To support the School and its aims
To benefit our child's education by assisting in the allocation of the funds for the future growth and development of the school by ensuring that the School continues to be a quality learning environment in which both the students and staff thrive.

Why Join?
to make new friends
to learn what's happening in the college.
to enjoy social functions.
to share ideas and talents.
to become involved in the college Community.

What About Fundraising?
In 2000, for numerous reasons, we introduced a small levy in lieu of major fundraising. All families are now asked to make this minimal contribution once per year.

What Happens to the Levy Funds?
In previous years all departments of the College were invited to apply in writing to the Pn&F for additional aids and equipment, which were unable to be met by normal college funding. However in 2007 after discussion with the Principal, the Parents and Friends Association have decided to fund several larger projects which will continue to benefit the widest cross section of students possible. (In 2009 Parents and Friends gave $35,000 to St Bede's to help refurbish the Lecture Theatre and purchase outdoor seating).
Our aim is in endeavouring to enhance the college equipment so that all students benefit in some way
during their time at St. Bede's College.
Some of the things that we do include:
We assist staff by hosting and catering for the parent welcome evenings
Social Evenings – at intervals
Serve Devonshire Teas on Grandparents Day
Assist at the College Art Show.
Sponsor the Annual Acquisitive Art & Technology Awards.
Attend annual retreats at "Cypress Lodge" in Phillip Island.
Make new friends and enjoy ourselves whilst contributing to the college community.
Stalls for both Mothers' Day and Fathers' Day.
The Flying Start Program End of Year Breakfast for the parents of students who will be in Years 11 + 12 in the following year
– a great opportunity to welcome the new St James' parents to the College.
So if you are enthusiastic and like to be involved in your child's community please email the P&F at
parentsandfriends@stbedes.catholic.edu.au
Thank you. If you have any questions please do not hesitate to ring us.