We are thrilled to announce the new College Leaders for 2024. Each individual brings their own remarkable strengths of inclusivity, integrity, respect, well-roundedness, community, positivity and kindness.
Archie Lamb – College Captain
Tom Gregory – College Vice-Captain
Hugo Risvanis – College Vice-Captain
Lucas Shaw – College Vice-Captain
Every student who was shortlisted for these roles is an outstanding representative of our College and should be very proud of themselves.
Our congratulations to Archie, Hugo, Lucas and Tom. We are so excited to see the positive impact they bring to our students and College Community!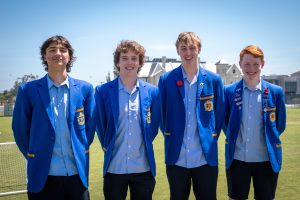 Article published on: 17 Nov 2023
Article published on: November 17, 2023