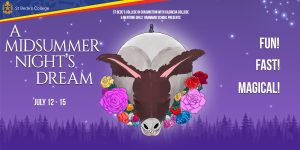 St Bede's College presents a much-loved Shakespearian classic, a classic like you have never seen before. This interpretation aims to bring the magic of an old play into the modern age era through dazzling effects, original score and passionate yet a lively portrayal of character.
'A Midsummer Night's Dream' takes us on a journey from the human world where our often-humdrum fates are set, to a mysterious and magical forest where anything is possible. We follow the 'Lovers' as a complicated triangle forms between them, 'The Mechanicals' as they hilariously bumble their way through, preparing to perform a play, all while being meddled with, by the cheeky but sometimes downright evil spirits that lurk in the shadows.
We have three words for you: Fast, fun and magical…this is truly not to be missed.
Click here to get your tickets!
Article published on: 05 Jun 2023
Article published on: June 5, 2023