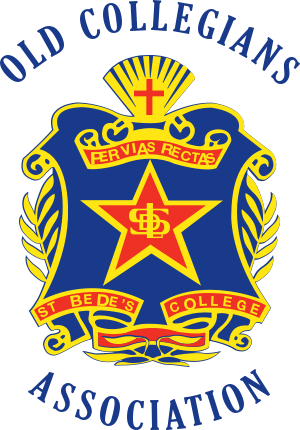 The purpose of the Old Collegians Association is to sustain a vibrant community of Old Collegians. The focus is on maintaining fellowship between past students, Brothers, teachers and staff to celebrate the past, enjoy the present and shape the future.
Support for the development of current students and the growth of the College is central to the Old Collegians endeavours.
Upon leaving the College, every student becomes a Member of the Association.
The aim of the Old Collegians Association is to:
maintain contact with former students and forge friendships between former students
maintain a network of business and social contacts
celebrate the success of past students
support current students in their progression through St Bede's, especially those who are financially disadvantaged
support the College and its endeavours
OUR PEOPLE
Patron
Brother Finian Allman
President
Jason Smythe (Year 12, 1979)
Vice Presidents
Tony Quint (Year 12, 1969) and  Darragh Tate (Year 12, 2015)
Treasurer
Dominic Langdon
Secretary
Joanne Hynes
Community Relations Officer
Lucy Turner
Committee
Comprised of former students, parents and school representatives:
Dominic Langdon, John Noonan, Jordy Schellebeck,  Tim Honey, Michael Hurst, Lucas Carlson, David Cracknell, Darragh Tate, Cameron Clarke, Lucas Barrett, Nicholas Law, Jackson Lee, Phil Reid, Brad Rowswell, Ray Purcell
Immediate Past President
Steve Ager (Year 12, 1979)