St Bede's College is a Catholic secondary school founded within the Lasallian tradition. St John Baptist de La Salle began a number of schools after seeing a need to educate boys and young men who were the most vulnerable in their society. He understood that education was the path to freedom and responsibility. He was both a brilliant educator and a pragmatist, believing that the education of minds and hearts was essential for learning and life. From such beginnings a large network of Lasallian schools formed, now educating more than one million students worldwide.
St Bede's College began in 1938 as one such school. It has since become a well-known, loved and iconic place. It has always been a place of welcome for boys and their families from South Eastern Melbourne.
In 2021, we established a second campus which is known as St Bede's College, Bentleigh East. The population in 2021 is around 1940 students across the two campuses. Set priority Parishes are allocated to each campus of the College.
We offer a Christian education, one that inherently believes that boys can become young men who are prayerful, contemplative, socially just and aware that they are part of a global society.
We are an inclusive community where students have the right to be safe, valued, challenged and respected by all. We also believe that such respect carries mutual responsibility for others as part of our College family. Strong pastoral care links between the student, family and school are a hallmark of the College. St Bede's College thrives on the concept of community where we are brothers and sisters to one another.
Our motto is Per Vias Rectas (By Right Paths). It is important that young men have a strong set of values that underpin the way they live. We live those values by respecting and honouring our heritage while looking with imagination to the future.
The College has Five Guiding Principles that support our Mission. These Principles are at the heart of our community. They are principles that we strive to live out daily.
God is our focus. God is spoken about; we give time and energy to worship and social action.
We are brothers/sisters to each other. We always take care of each other. The older students will guide and care for the younger students. The Lasallian spirit of brotherhood/sisterhood will underpin all our actions.
We must always be honest. The value of honesty is at the heart of relationships at St Bede's College.
Respect for self, others and property. These are gifts and are sacred.
Achievement is valued. In the cultural, academic and sporting fields, we strive to give our best effort.
We are proud of our Lasallian heritage. It gives our community a distinct and well-articulated view of education, allowing young men to feel connected, empowered and able to make a clear difference in the world.
You are always most welcome to visit our College to see if your son may benefit from such an education.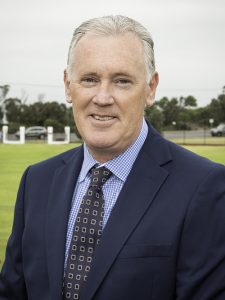 Mr John Finn
Principal