A big congratulations to Craig Radley and ALL members of the Swim Team (names listed below) who won the ACC Swimming Championships on Thursday 27 February 2020.
The team won:
Under 16
Under 17
Intermediate Cup, (Under 15 and 16) and
the Senior Cup (Under 17 and Senior)
as well as the Overall Shield.
Final overall results saw St Bede's defeat De La Salle by 54 points.
One of the highlights of the night was a new ACC record set by Finley Cousins in the Under 17 50m Breaststroke.
The amazing statistics are:
18 first places.
9 out of 12 relays won.
49 swimmers were placed in the top 3.
Thanks to all the staff who attended last night and a special thanks to Georgie Worland, Olivia Guglielmino  and Jessica Kirk who have helped Craig out with the preparation of the team.
Our students represented us brilliantly last night, so please congratulate any boy who you know is part of the team!
Regards
Michael Naughton
Director of Sport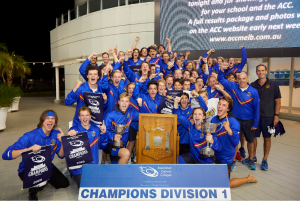 Year 7: Finn Grimes, Reuben Jewitt O'Reilly, Daniel Henry, Oliver Bradley, Piero Palleschi, Oliver Gamble, Max Quirk
Year 8: Ashton Roberts, John (Luke) Patterson, Rory Jenkins, Jamie Ritzert, Owen Bater, Gab Incani, Gabriel Uberti, Riley Kotow, Noah McColough
Year 9: Flloyd Clancy, Matteo Uberti, Charlie Wilce, Josh Mathews, William Snowden, Ryan Burleigh, Owen Mathews, Dante Incani
Year 10: Henry Owen, Sean Grella, Max Blackie, Jasper Moodie, Nick Mathews, Angus Cameron, Daniel Tanti, Luke Henry, Liam Higgins, Harry Griffin
Year 11: Max Cronin, Tyler Billing, Alex de Vos, Blake Williams, Tom Claringbould, Matt Harms
Year 12: Riley Roberts, Alec Hende, Charlie Rogalsky, Malachy Brennan, Tom Griffin, Nathan Taylor, Finley Cousins
Article published on: 28 Feb 2020
Article published on: February 28, 2020