September 12, 2019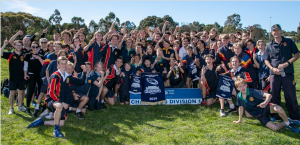 Congratulations to our ACC Cross Country Team on their performance on Wednesday 11 September 2019 in winning the ACC Championship at Bundoora Park.  This complements their victory in 2018.  Cross Country is a challenging and often isolated sport that requires both tenacity and teamwork.  Our students were excellent ambassadors, particularly our Year 11 and 12 young men who were fine mentors and gracious winners.
Congratulations to the following who placed in their age groups:
Edward Gibson 7.7 = 1st 
Alexander Gibson 9.7 = 1st
Nikolas Atsis 9.8  = 3rd 
Thank you to the following coaching staff:
Sam Kelleher, Kirk Thompson, Olivia Guglielmino, Georgie Worland, Brendan Fordham, Chris Murphy, Owen Lalor and Matt Crowley
Particular recognition goes to Craig Radley for his overall coordination.