March 2, 2018
Thank you for joining us on this event last Friday 23rd February. We hope that you found Br Peter Gray engaging and informative.
An address by the eminent Br Peter Bray, fsc
(Vice Chancellor, Bethlehem University in the Holy Land)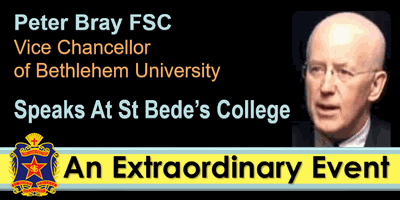 Brother Peter Bray, FSC, EdD is a De La Salle brother and the 8th Vice Chancellor of Bethlehem University – the first university and only Catholic one established in Palestine providing higher education to the Palestinian people (both Christians and Muslims) in the West Bank.
After many years of living and working within the walls around Bethlehem, Br Bray is well aware of the curfews, travel restrictions, military checkpoints and the negative impact of the Israeli military occupation throughout the West Bank.